Peek a PICO Port — Among Us VR is Coming to PICO on December 5!
Our bean family is expanding!
Among Us VR is coming to PICO on December 5, 2023!
We're incredibly excited to bring all of the deception, betrayal, and social deduction of Among Us VR to a brand new set of players around the world. And with full crossplay functionality, the Skeld II and Polus Point are about to see even more beans! ✨
PICO players can wishlist the game now and join our official Discord server to join in the Crewmate conversations. Well… EVERYONE can join the Discord server. But… yay PICO!
And, before you ask — because we know you will — we haven't forgotten our PlayStation VR2 beans. SOON, my friends. We'll have news to share soon… and we think you'll be excited. But for now… we plead the 5th. 🤐
We can't wait to see how our Crewmate community will grow with these new additions! ✨✨
Stay suspicious!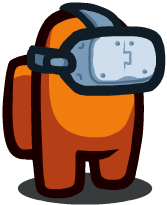 Be the first one to know when we launch new stuff.