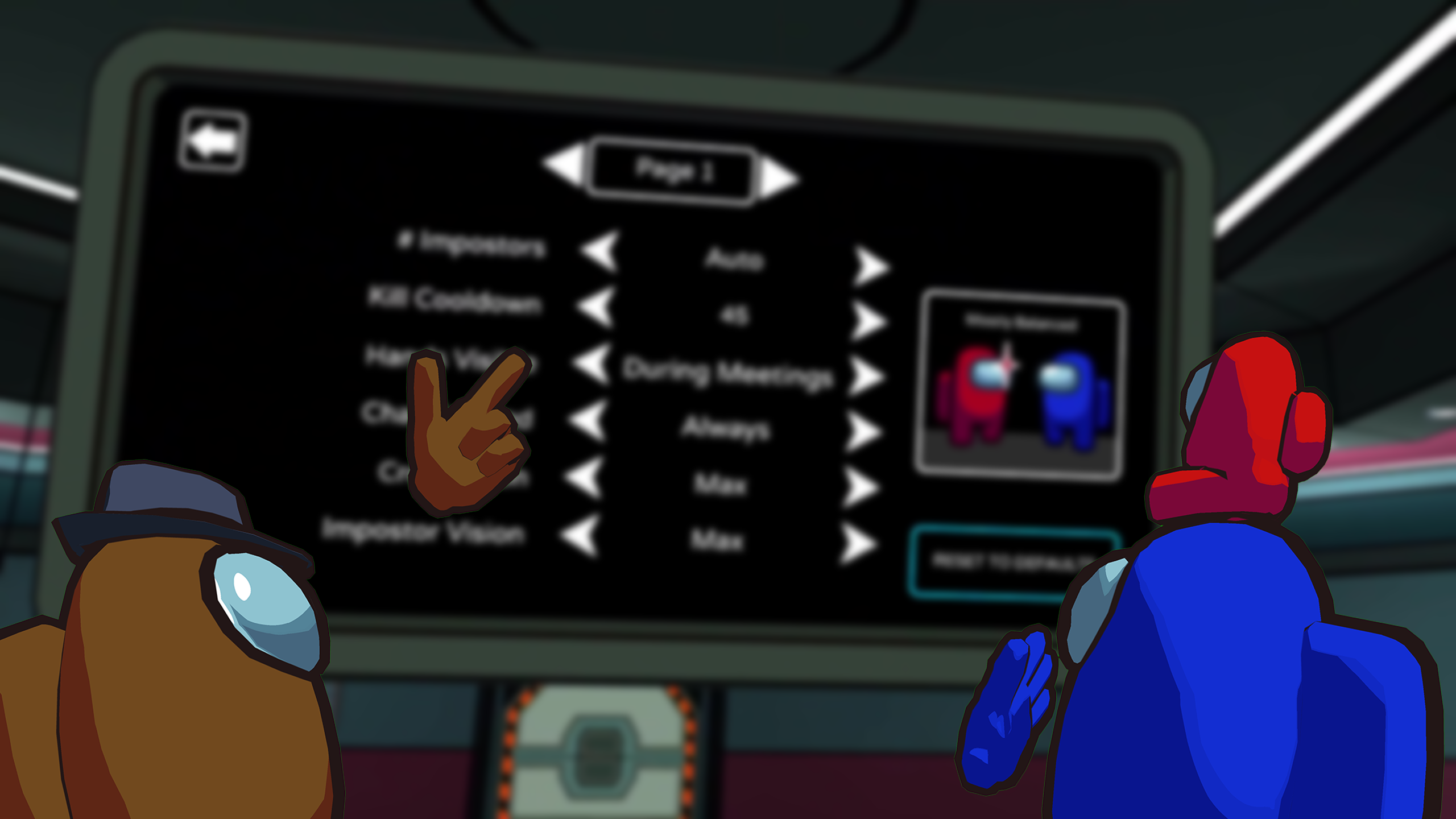 Among Us VR Patch 4: 🍕 Hot Out the Oven! 🔥
Greetings, Crewmates!
Patch 4 Time! Get ready to update your spacesuits and embrace an upgraded Skeld II — some in-game changes have arrived. Our finest Crewmates have installed a new mode to your lobbies — the power of customization! That's right: Custom Lobby Settings, the thing you've all been asking for, is now at your fingertips (or is it bean-gertips?)!
✨ Introducing Custom Lobby Settings! ✨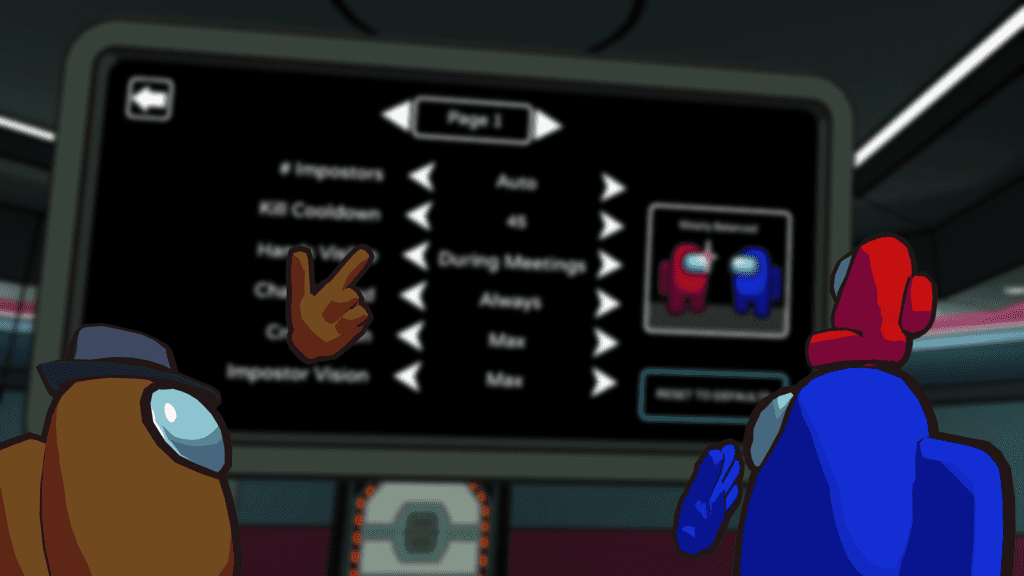 Over 9 billion customization configurations are being added to Among Us VR with this upcoming feature. We're not even joking. One of our devs did the math. By hand. Using an abacus. Our team is truly dedicated. 😭😭😭
These settings will allow the host of a lobby to adjust the pace, balance, and general rules of how a match plays out! Want to favor the Crewmates? Go ahead! Think Impostors deserve an edge? We're a bit skeptical… but do you, my friend. ⚖️ We've even added a little indicator to give you a bit of insight on just how much you might be skewing the default game balance. ⚖️This balance indicator shows how your personal settings compare to the default ones, but your mileage may vary — ie, we're not perfect, so don't be upset if it deceives you a little bit. 🤐
Crewmates with experience in the original Among Us will recognize many of the familiar Custom Lobby Settings, but we've thrown in some fun new exclusive-to-VR treats as well. For instance, you can enable "Hands Visible" at all times so that faking a task requires Impostors to not only stand near the proper station, but mime doing the task as well. It's straight devious.
Here's the full modifier list:
Number of Impostors
Kill Cooldown
Hands Visible
Chat Enabled
Crew Vision
Impostor Vision
Number of Emergency Meetings
Number of Long Tasks
Number of Short Tasks
Visual Tasks
Taskbar Updates
Report Bodies
Discussion Time
Voting Time
Anonymous Voting
Ejections Show Role
Door Sabotage
Sabotage Cooldown
✨ Billions Of New Ways To Play! ✨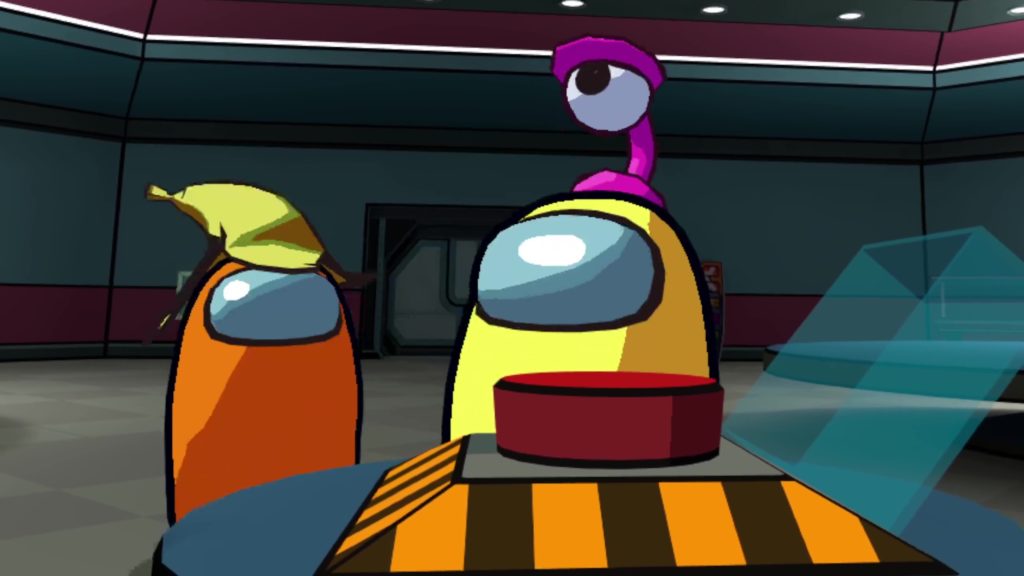 Given the above list, the team has put together a few experimental customization setups below to get your bean noggins churning. But, of course, feel free to create your own special rules to play how YOU want! If you do discover any specific combos you find enjoyable, let us know on our Among Us VR Discord!
🔎🔎 Where's The Proof? 🔍🔍
Without skewing the scales too much, it can be fun to play with a little bit more vagueness and scarcity of information. Put your social deduction skills to the ultimate test by wiping away any shred of evidence.
Hands Visible: Always
Chat Enabled: During Meetings
⧣ Emergency Meetings: 1
Visual Tasks: Off
Taskbar Updates: Never
Anonymous Voting: On
Ejections Show Roles: Off
🫣🫣 Conceal and Prowl 😈😈
Numerous Crewmates. One Impostor seeking them out. And absolutely nothing stopping a brutal takeover except clever hiding skills and a speedy task list completion.
⧣ Impostors: 1
Kill Cooldown: 10 sec
Hands Visible: Always
Crew Vision: Min
Impostor Vision: Long
⧣ Emergency Meetings: 0
⧣ Long Tasks: 0
Report Bodies: Off
Door Sabotage: Off
Sabotage Cooldown: 40s
✨ PIZZA TIME ✨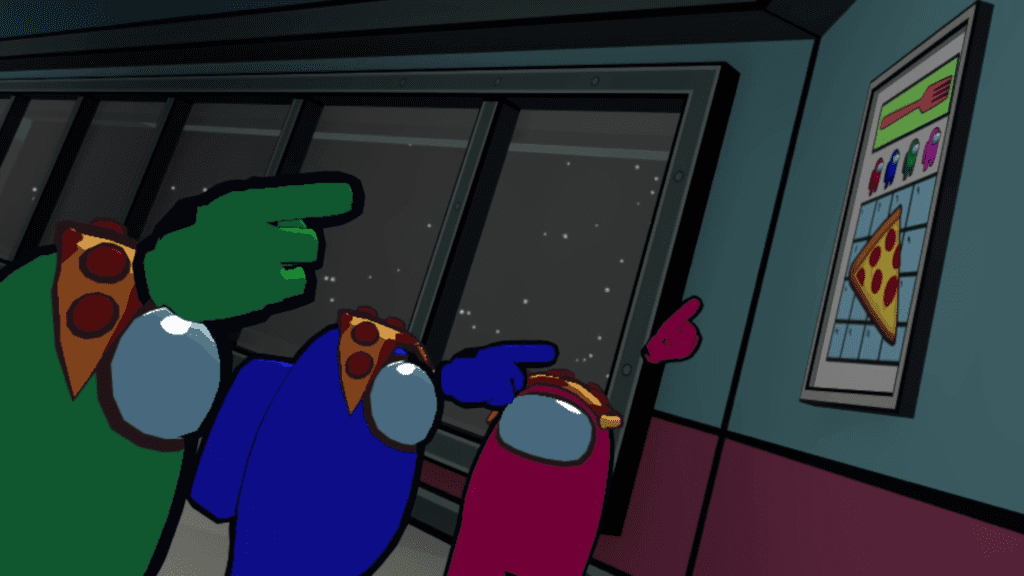 All of these options are available to Crewmates with the game for the price of FREE. That's great value! But, that's not all! Update now, and we'll also throw in a delicious slice of pepperoni pizza… onto your head!
The Pizza Time hat is now hot and fresh in your Wardrobe.
And, if that doesn't satiate your hunger for hats… the Hat Pack: Accidental Favorites DLC is available today for $4.99 USD — featuring some go-to toppers from the original game:
Note 2 Self (because who can keep track)
MoRawk (go hard, beans)
Third Eye (but can you see it all?)
Magical 'Corn (oh, you fancy)
Peeled (apparently, potassium is important)
✨ Into the Unknown We Go! ✨
We'll continue to listen to your feedback and would like to extend another full course thank you to all of our players. Together, we're checking off our Task Lists and making Among Us VR the best VR Space Bean Game of all time!
In case you missed it, we recently revealed a new course directive for the Skeld II: an unnamed location on Polus! For more details about the next map coming later in 2023 and how YOU can vote to help name it and become a part of Crewmate history, check the link here!
Stay suspicious!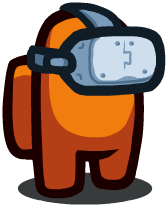 Be the first one to know when we launch new stuff.