Get Ready for Chaos on the Skeld II, Among Us VR is Available Now!
Attention, Crewmates!
Among Us VR is now available on Meta Quest 2, Meta Quest Pro, Rift, and Steam for $9.99 USD. 
If you don't want to be a basic Bean, you can customize your Crewmate with the Hat Pack: Crewmate Favorites for $3.99 USD, featuring five new hats.
We can't wait to hear stories of all the lying, betrayal, and hilarious moments you're sure to encounter. Head over to the Discord server to join the Crewmate community. For more breaking news, follow our Among Us VR Twitter account or watch this website.
Schell Games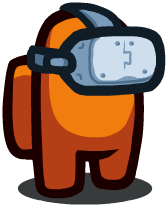 Be the first one to know when we launch new stuff.