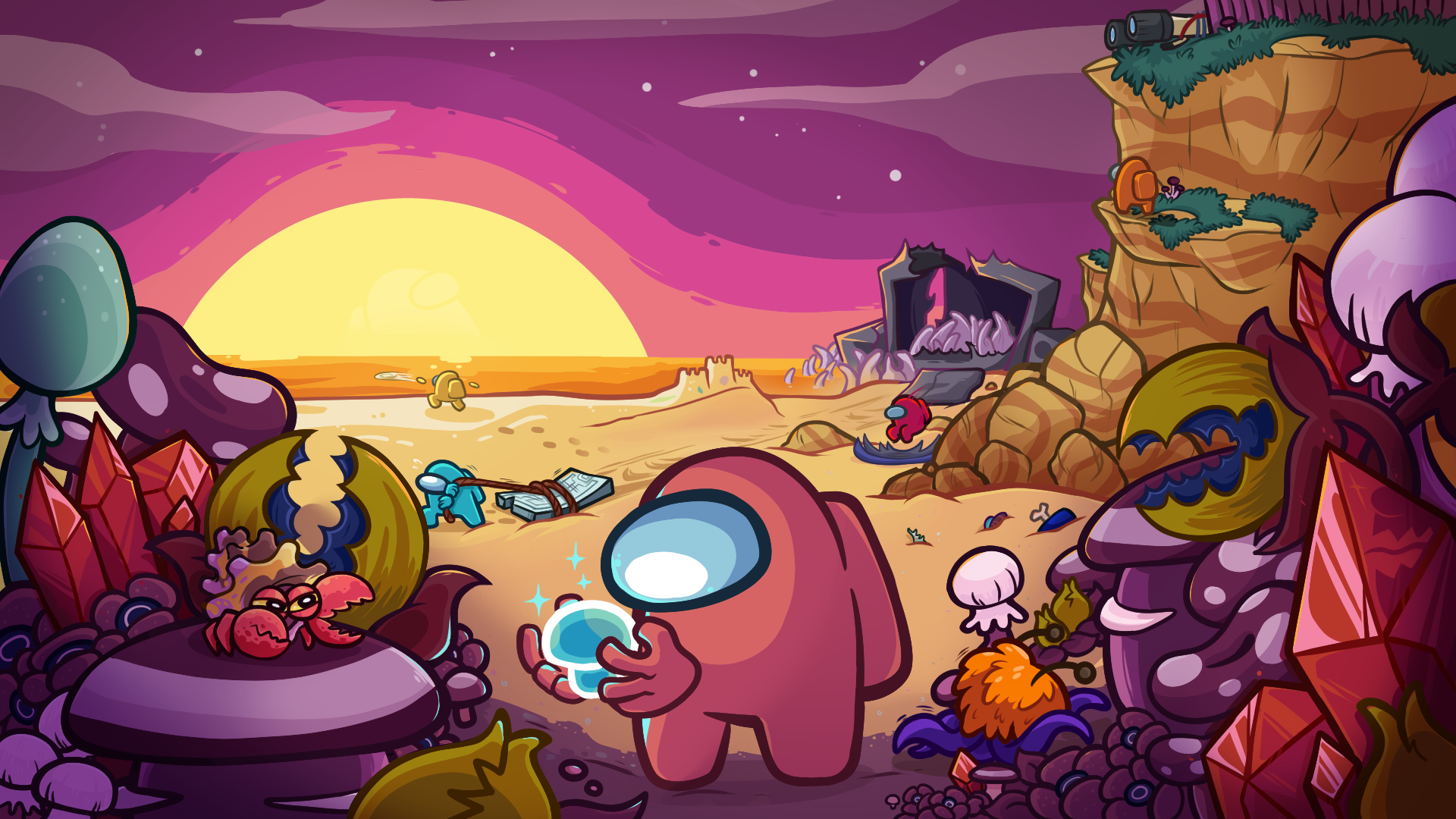 New Map: The Fungle OUT NOW | Emergency Meeting #38
Hang on to your seats, Crewmates!!
We've crash landed with a brand new update, v2023.10.24, featuring THE FUNGLE! Gather your crew and explore the mysterious depths of this fungal jungle together.
🚨 NOTE: You MUST update your game to play. 🚨 This update is not backwards compatible, so make sure you are on v2023.10.24 to get the new map and fixes.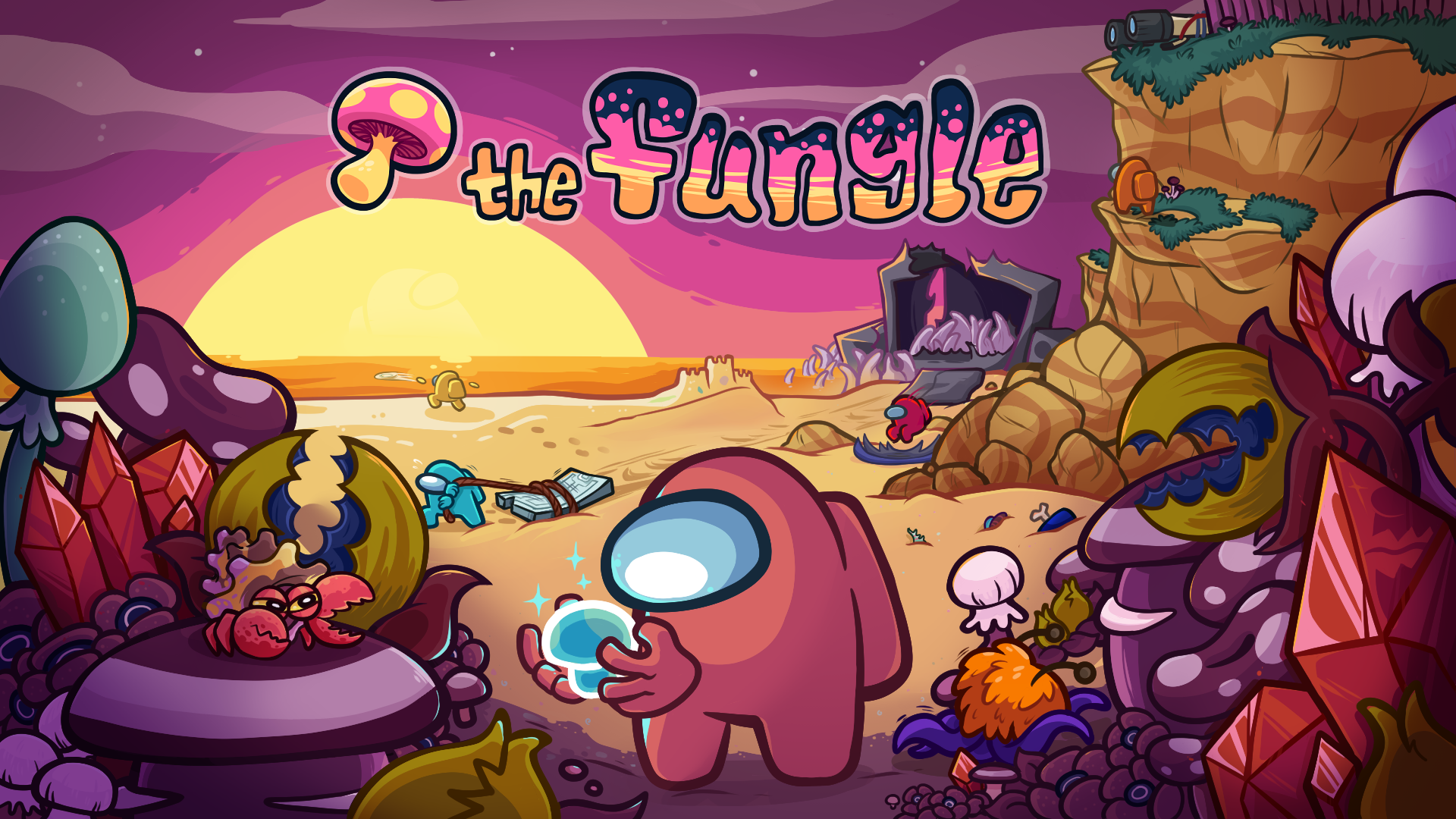 Work with your fellow Crewmates to repair the communication channels after crashing into a deserted island! But it's never that easy is it? Crewmate life is full of dread and chaos.
Deal with an all new sabotage, fix the old ones, and figure out who the Impostors are before you become on of their victims! I wouldn't stand so close to that vent if I were you…
Here's a peek at what you can expect:
🌴 Explore The Fungle: Made up of sandy beaches, mushroom jungles, and cliffs, there's lots to discover here! The beach is a wide open space that gives Impostors plenty of chances to find someone alone while the highlands gives Crewmates at a higher elevation more vision than those below. Watch out!!
🎣 All new tasks: Play frisbee, fish, roast marshmallows, lift weights, and more!
🍄 New sabotage: The Mushroom Mixup sabotage swaps everyone's color and cosmetics, making it the perfect time for Impostors to kill withour being discovered. Careful though – it only lasts for a limited amount of time.
There are a ton of other surprises for you to find here – hope you like ziplines and the new ejection animation. 😱 And don't worry, if social deduction isn't your thing, The Fungle is also great for Hide n Seek mode!
Cosmetics
What would a brand new map be without some brand new cosmetics? There's a ton of fresh and Fungle combinations in the shop for those of you saving up beans and a Fungle Cosmicube for 70 Stars.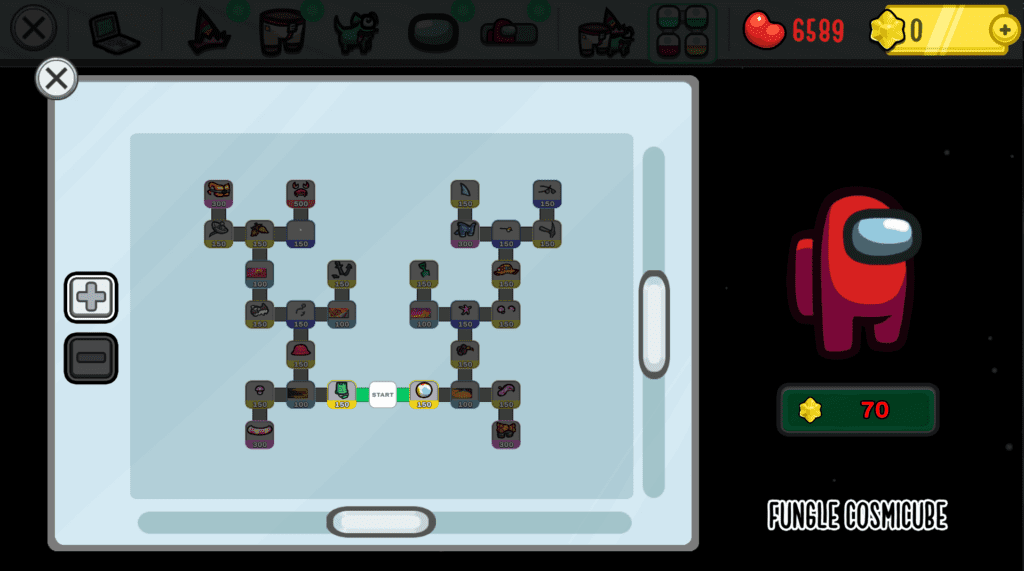 Because they were in such a pinch, the Crewmates opted for a crustacean layout for the new Cosmicube! There's plenty to get hooked on. I'm a big fan of the bucket hat personally, but I've seen how feral you've been for the crab! 👀
Free Wallpaper!
Bzzzt Comms may have been destroyed when we crashed on The Fungle, but you pulled through on completing a secret task! Last week, many Crewmates noticed we posted slices of.. something??
Scattered across our Reddit, Discord, Twitter (X?), Youtube, Facebook, and Instagram, you scavenger hunted your way to victory and discovered that a zipline would be on the map! Put together, this is what it looked like:
Feel free to download and use it as your new Fungle wallpaper – just mind the crab! They're a tad pinchy.
Patch Notes
We've been squashing a bunch of bugs in preparation for The Fungle! (Can someone please take care of these mosquitos though?) Here's a list of some of the biggest fixes:
Chat box will be selected when opening it in Free Chat – no more needing to click and then type!
Tweaks to audio files which should reduce load times on lower end devices
The Airship and The Fungle will take an extra 5 seconds to load so lower end devices can get all needed assets
Pets of dead players will no longer sit idle – they'll go back to being heartbroken that you're dead
Guardian Angels can no longer protect Crewmates during Comms Sabotage
When creating or finding a game, Impostor count no longer defaults to 3
[Mobile] – Players will no longer be kicked for hacking while venting as an Engineer
That's quite a few updates! As always, be sure to let us know if you find a bug or glitch that impacts how you play by submitting a ticket to our helpdesk. The info you give us helps make Among Us better for everybean.

Hey y'all! What an amazing time for the crew. Enjoying the relaxing sands of an oceanside retreat, picking mushrooms as you stroll through a shady jungle, running for your life from bloodthirsty Impostors… The Fungle really has it all! Of course, having it all means having some unexpected bugs, too. We're already hard at work on smashing the latest bunch, but Crewmates out there in The Fungle may experience the ones listed below:
[Fungle] – The sound effects for the zipline may play continuously if a meeting is called while a player is on the zipline.
[Fungle] – The campfire sound effect may play during a game's intro sequence.
[Fungle] – Invisible collision may block player movement around the Labs.
[Fungle] – The map label for the dock may not be correctly displayed at times.
[Fungle] – The orange fish may be caught at a much higher rate than the others during the fishing task.
[Fungle] [Android] – Controls may become unresponsive if the game device goes to sleep while the critter is hatching.
[Fungle] – Hats may float behind the player while using the zipline under certain conditions.
[Fungle] – A Crewmate may hang too far below the zipline during the travel animation.
[Fungle] – Using the zipline during a Mushroom Mix Up may display the wrong hand color.
[Fungle] – An incorrect task explanation may be displayed while completing the Roast Marshmallow task.
[Practice Mode] – A dummy in the kitchen may spawn that cannot be killed.
[All Maps] – Quick Chat may incorrectly list certain terms as sabotages.
[All Maps] [PC/Console Platforms] – Shapeshifters may lose functionality if the shapeshift time runs out while completing the Reactor Handprint Reader and Door sabotages
BUT WAIT, THERE'S MORE!
We've talked to a lot of Crewmates about our reporting system lately, and it seems like a lot of you are unaware that we have a whole team of beans whose job it is to read and review the in-game reports you all send every day. It takes time to go through them, yeah, but it's an important part of keeping the game healthy. So we thought we'd add a little reminder in-game for how our review process works (as well as a thank you for caring enough to help us keep the game fun for everyone).
After sending an in-game report, players will now see the message below to help everyone know:
YES, we do read reports.
YES, they do help (even though you can't see it right away).
And NO, you can't get banned for false "mass reports" (since we actually read and evaluate what's sent).
Phew, big update! That's all from me! Now to get back to roasting my marshmallows…
Mike
Well, Crewmates checks calendar the seasons are changing! We celebrated the coming of the Autumn Equinox by holding a Community Art Event in our Discord.
It was delightful to see your interpretations of how the Crewmates, Impostors, Sloths, and even Henry would be in different stages of autumn.
The event into 3 categories: Early Autumn, Mid Autumn, and Late Autumn. The most popular art pieces, as voted by our Discord, will be on display as our Discord banner until the winter arrives for us in the northern hemisphere. Huge thank you to everyone for participating!!! It was such a fun way to get together and admire the skills of our community. Here are the final pieces:
Early Autumn – Cuppojoe_
Mid Autumn – t84s
Late Autumn – Haybean
Aren't they amazing??? Everyone who submitted and voted are such good beans, may you never be voted out in the first round. 🙏 Big shout out to our mods who helped organize this fun community event!! Can't wait to see what our next Community Art Event, brings in. As always, if you're working on fanart and want to share be sure to tag us on Twitter, Instagram, Tiktok, and our other socials!
Off to find that lil crab,
Dors
Be the first one to know when we launch new stuff.