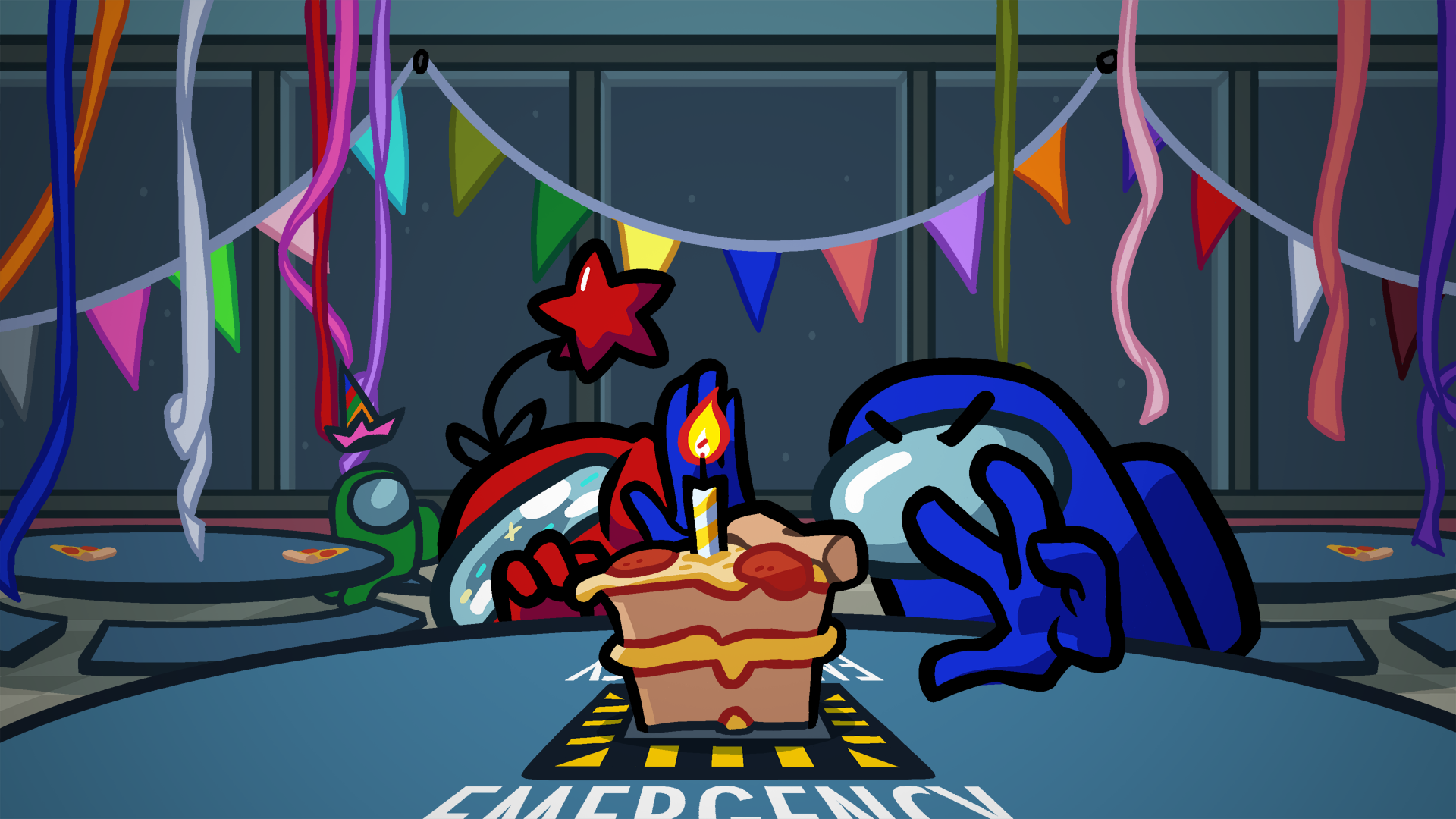 Pusheen Collab and Birthday Fun Time v2023.6.13 | Emergency Meeting #37
Holy moly, Crewmates!
It's our birthday week and that means it's time to whack some Impostor shaped piñatas, eat pizza-cake, and spend time with our best crew – you!
Without you, we couldn't make Among Us what is and the Innersloth team couldn't be more grateful for it. Before I start typing through these happy tears, here's what's happening as part of v2023.6.13, out now.
Patch Notes
Version numbers now appear in the bottom left of the main menu

When in local mode the version number is in the bottom right

[ALL MODES] Players who lose network connection will now be sent back to title menu
[iOS] Local lobbies created using iOS 16 can now be seen by other devices

iOS and Android can now see local matches hosted by PC

Aromantic and MLM pride flags have their prices fixed to match the other nameplates.
Various cosmetic layering fixes
Various menu fixes
That's it for patch notes! We can't wait to celebrate 5 years of tasks and betrayal! Remember not to get too distracted by partying… that's when the Impostor might strike. Keep reading for all the fun stuff we have in this update!
Fun Stuff
La, la, la… la la ahem, we've launched our latest update alongside a cute and cozy collab with Pusheen!🐱✨
The Pusheen Cosmicube costs 110 stars and is available until September 13, 2023! For all the details on this collab check out our post here. Trust me when I say you'll never feel cozier with these cosmetics.
Alongside the new Cosmicube here's some other fun stuff happening in Among Us:
Our main menu has a brand new look! Enjoy the new window view and testing out the new hub
Free Balloon Hat – Login to Among Us on June 15th to receive a free cosmetic to celebrate Among Us's 5th birthday.
Birthday Cosmetics – Party harder with some new rave light hats and stunner shades available in the store now 😎
More Fun Stuff
Have you ever wanted to ask the dev's questions about anything? How about what dev work they do? Something specific about Among Us or even Henry Stickmin?
If you answered yes to any of these, you'll want to join our Discord for a series of Q&A sessions I'm hosting with members of Innersloth! We've already completed one with Victoria and have two more scheduled with Aemu and PuffballsUnited!
Don't worry if your IRL tasks keep you away from the sessions since I'll record them and upload them to our official Youtube channel.
And one more thing
I was able to gather a bunch of the team for a birthday stream! So if you want to see if we're actually good at Among Us (always blame Gary) you can find out as we play against one another live on our Twitch account on June 15th at 12pm PT/3pm ET!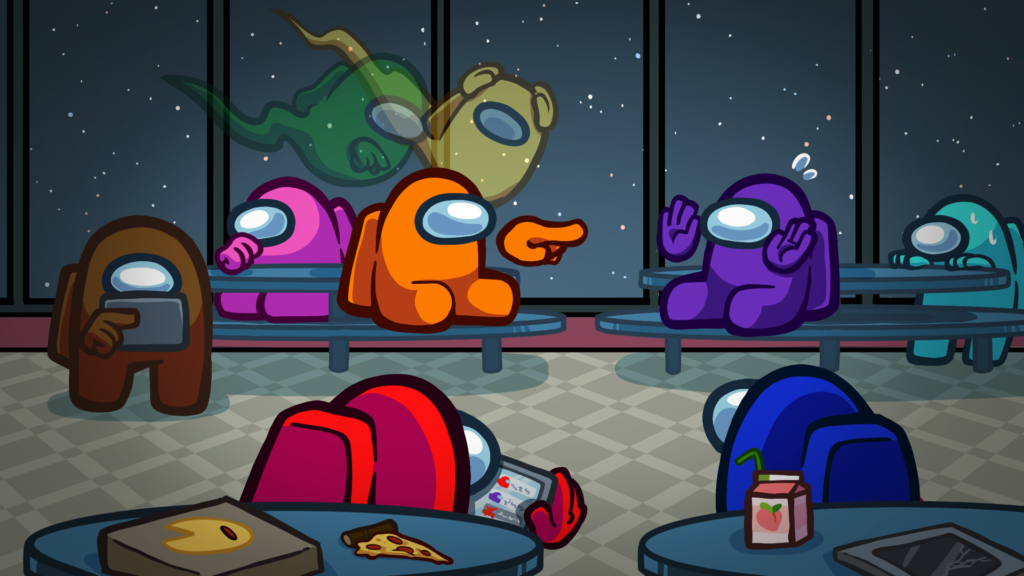 And just like the Q&A's, don't worry if you can't make it – this will be recorded too.
There's couple more messages, but then I think you're ready for full party mode!
Blinded by the lights,
Dors
A message from Among Us VR
Greetings, beans of all dimensionsss! ✨
Schell Games team here, chiming in to say 🎊🎊🎊 HAPPY BIRTHDAY, AMONG US!!! 🎊🎊🎊. And a big congratulations to the entire Innersloth team on surviving a bazmillion (math?!#$ where's my abacus?) matches!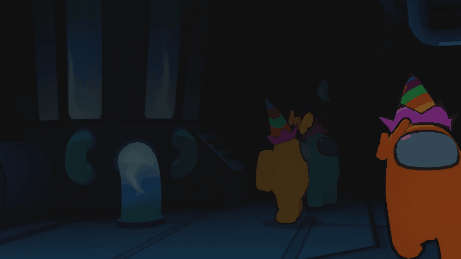 We're so excited to be working with the team at Innersloth to bring all you beans into VR and we're pumped for everything that's to come in the next few months! AND BEYOONNDDDD! 🚀
But most importantly — thank you, thank you, thank you to all our Among Us VR players — we appreciate you and are beyond grateful that you spend your time in the virtual Skeld II with us.
And with that! Among Us VR will also be joining the birthday shenanigans with a host of dedicated festivities this week!
🥳: Tuesday, 6/13 at 12pm PT/ 3pm ET: Tune in for a special pre-recorded Birthday stream to celebrate Among Us! Players will include Innersloth and Schell Games' Crewmates as well as influencers, Soul Fox Gaming and Steve Knows! Catch the chaos on the Schell Games' YouTube channel here.
🥳: Tuesday, 6/13 at 1pm PT/ 4pm ET: You've got questions burning brighter than our birthday candles — and we're here to answer them! We'll be hosting an Among Us VR Developer AMA, streaming live on our official Among Us VR Discord server.
🥳: Monday, 6/12 thru Monday, 6/19: No birthday is complete without some GIFTSSSS — so, we're excited to announce our gift to you! We're kicking up the The Happy Birthday Among Us Bundle! You can now get the Among Us VR base game and two essential Hat Pack DLCs for $15.99 USD — available on both Steam and the Meta Store!
Join the Schell Games Crewmates (…or Impostors?) to celebrate Among Us. They are 5.YEARS.BEAN.OLD!!
Schell Games
Hi, everyone! It's me, Mike, the guy who helps you when stuff goes wrong! But honestly, you all should get some credit, too. We rely on all of you to be our eyes and ears out there in the cosmos and let us know when you find bugs/stuff that's maybe a bug/things that make you go "bwuh?". Every report helps, so please make sure you send screenshots, video, and whatever else you got over on our Helpdesk. Anyway, here's stuff we know about and are working on!
[Crossplatform] An issue where players receive multiple friend list requests from the same person.
[Crossplatform] An issue where players' friendlist reaches maximum before they have 100 friends.
[Crossplatform] An issue where the game sound disappears after the game has been minimized.
[Crossplatform] An issue where some players experience increasing ping leading to disconnection and a message that reads "DTLS negotiation failed"
[Crossplatform] An issue where players are unable to connect to their Among Us account with an error that reads "FriendCodeFail"
[Crossplatform] An issue where some players's accounts are incorrectly tagged as child accounts despite age verification.
[Crossplatform] An issue where some players' guardians are not receiving emails related to age verification.
[Crossplatform] An issue where the size of the UI is incorrectly displayed on some devices.
[Crossplatform] An issue where some players may disconnect from the server due to network strength.
Speaking of reports, y'all know that the best way to help us deal with crewmates who get a little out of hand (as in, breaking our Code of Conduct) is to send an in-game report, right? Well, it totally is. Even a single report helps our moderator team do their jobs and keep the game feelin' fun and friendly!
Until next time!
Mike
Player Survey
Have you checked out our player survey yet? If you have some cool new ideas for our spacebeans, or just really want to tell us how you're feeling about Among Us – this is your chance to do it! Just fill out this handy Player Survey to let us know!
It should only take about 5 – 10 minutes and your feedback will help Crewmates everywhere. Thanks for taking the time!
Be the first one to know when we launch new stuff.