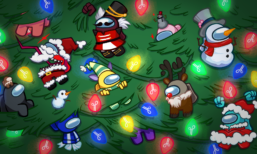 Holiday Cosmicubes are here! It's a snowbean miracle!
Crewmates! It's time to get festive for winter. Two new Cosmicubes have dropped – the Snowflake Cube (earned using Beans) and the Snowbean Cube (earned using Stars). Themed for the holidays, this is full of warm and chilly winter gear for your Crewmate. These Cosmicubes will only be available for a limited time. Get them…
Be the first one to know when we launch new stuff.