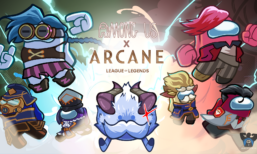 Announcing: The Among Us x Arcane Cosmicube!
Crewmates! Dress up and play as your favorite Arcane character in Among Us' first ever Cosmicube partnership, out now on all platforms through December 31, 2021! We're so excited to have worked with Riot for an official collaboration to celebrate the launch of their first animated series, Arcane! You'll see some fan favorite champions, hats,…
Be the first one to know when we launch new stuff.